Ragging Is Banned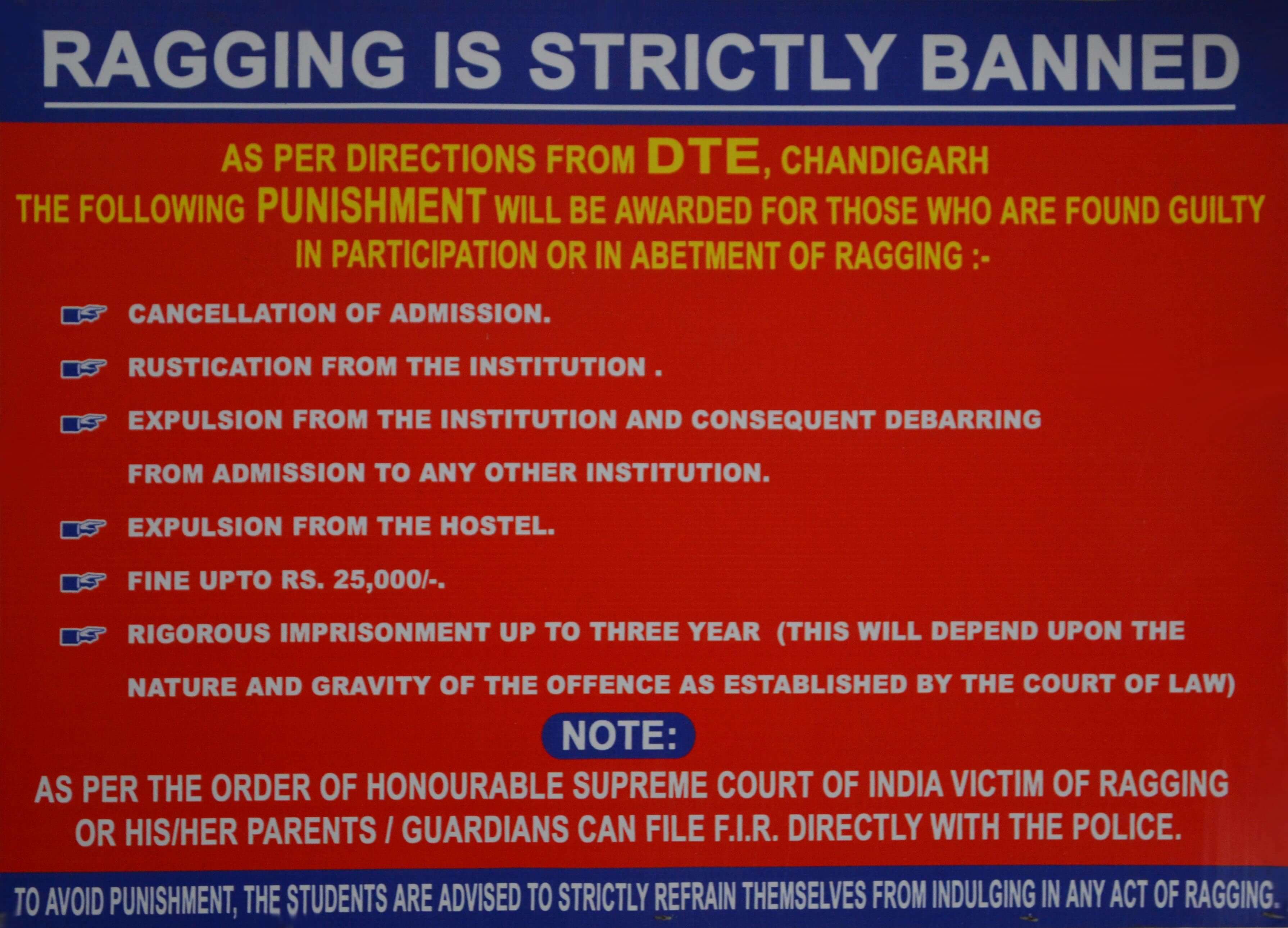 Ragging is a punishable act in college campus. Following punishment will be awarded for those who are found guilty in participation or in abetment of ragging :-
Cancellation of admission.
Rustication from the institution .
Explusion from the institution and consequent debarring from admission to any other institution.
Expulsion from the hostel.
Fine upto Rs. 25,000/-.
Rigorous imprisonment up to three year (This will depend upon the nature and gravity of the offence as established by the court of law).
As per the order of Honorable Supreme Court of India victim of ragging or his/her parents / guardians can file FIR. directly with the police.
To avoid punishment, the students are advised to strictly refrain themselves from indulging in any act of ragging.
Committee related to Anti-Ragging Squad
Departmental Committee
| | | | |
| --- | --- | --- | --- |
| S. No. | Department | Name of Faculty Members | Phone No. |
| 1 | Applied Science | Mrs.Charanjit Kaur-Convenor, | 98147-14126, |
| | | S. Jaspal Singh | 81465-71083 |
| 2 | Civil Engineering | S.Gurcharan Singh-Convenor, | 94635-30591, |
| | | S. Ismitpal Singh | 99880-44011 |
| 3 | Mechanical Engg. | Sh.Ashok Kumar-Convenor, | 94173-07615, |
| | | S.Gurmit Singh | 98032-61920 |
| 4 | Electrical Engg. | S. Ravinderpal Singh-Convenor, | 98720-91085, |
| | | Mrs. Ramneek Kaur | 94630-00463 |
| 5 | Electronics Comm.Engg. | S. Parampal Singh- Convenor, | 98149-94945, |
| | | Mrs. Gurpreet Kaur Bedi | 78373-00544 |
| 6 | Computer Engg. | Sh.Sanjeev Kumar-Convenor, | 95013-00440, |
| | | Mrs. Harpreet Kaur | 95013-77104 |
| 7 | Automobile Engg. | S. Prabhpreet Singh -Convenor, | 98149-94945, |
| | | S. Kulwinder Singh | 82830-00192 |
Observing Committee
| | | |
| --- | --- | --- |
| S. No. | Name | Phone No. |
| 1 | S. Surinder Singh Ubhi (Officiating), Principal | 9815600649 |
| 2 | S. Baldev Singh, HOD EE. | 98884-37135 |
| 3 | Mrs. Sarbjit Kaur, Officiating Incharge Civil Deptt. | 94635-30591 |
| 4 | S. Ashok Kumar, Officiating Incharge Mech. Deptt. | 94173-07615 |
| 5 | Mrs. Charanjit Kaur, Officiating Incharge Applied Sci. Deptt. | 98147-14126 |
| 6 | S. Hardeep Singh Jawanda, HOD CE. | 98729-55518 |
| 7 | S. Satnam Singh, HOD ECE | 98729-76808 |
| 8 | S. Prabhpreet Singh, HOD Auto Engg. | 98149-94945 |
Anti-Ragging Squad(Hostel Boys)
| | | |
| --- | --- | --- |
| S. No. | Name | Phone No. |
| 1 | S. Surinder Singh Ubhi (Officiating), Principal | 9815600649 |
| 2 | S. Gurcharan Singh, (Chief Warden) | 94635-30591 |
| 3 | Sh. Aman Bhardwaj, (Warden) | 95010-01917 |
| 4 | S. Satnam Singh, HOD ECE. | 98729-76808 |